Bomb Crypto is a play-to-earn game developed by Senspark, a well-known Vietnamese gaming developer. Despite the fact that it is still in its early stage, this game was once classified as the third most popular game by DappRadar, with over 600,000 players.
From December 18th, 2021 to January 17th, 2022, Footprint Analytic data revealed that the Bomb Crypto game surpassed MBOX as the most BSC-funded game on GameFi and rated it as the third most popular game on GameFi. So, what is the appeal of this game? How did it attract so many gamers so rapidly after its release?
Learn more about the Crypto bomb game and the answers below!
What is Bomb Crypto Game?
Bomb Crypto is a popular play-to-earn game in which players search for a Bomb Crypto token (BCOIN) and use Bomb Heroes to fight enemies.
Meanwhile, Bomb Heroes are special NFTs that users can acquire, sell, and enhance in order to gain additional BCOIN tokens. According to Yahoo Finance, the official site of Bomb Crypto has officially issued 12 NFT Bomb Heroes with random traits to date.
Players can later use these Heroes with their advantageous attributes to locate additional BCOIN tokens.
The principles and design of this game are based on the classic Bomberman game, providing players with a vintage touch and a nostalgic sense.
Bomb Crypto will be launched in September 2021 on the Binance Smart Chain (BSC) network. This game is now the most well-known play-to-earn NFT game in the crypto market.
Bomb Crypto Game Modes
There are three different game modes: Treasure Hunt, Story mode, and Battle mode.
Treasure Hunt
Treasure Hunt is the simplest mode in this game because it does not require active gaming. Clearing the entire map in this mode may take an hour or more, depending on your Hero level.
Bomber Heroes can be dispatched to mining zones in this mode to blast the blocks and find BCOIN. Furthermore, these heroes can function independently without the necessity for people to be always online. This has the ability to provide passive income for the player.
With each bomb detonation, the hero's energy level lowers. When the hero's energy is depleted, he enters a resting condition to replenish it. If players have enough money, they can buy a residence, which speeds up charging.
Story Mode
Each level lets players choose a Bomber Hero to participate in. To complete each level, the player must eliminate all of the monsters. BCOINs can be obtained by breaking blocks and killing critters. The Bomber Hero's energy is depleted when he participates in a level.
As a result, if the hero lacks energy, he is unable to participate in certain stages. Furthermore, if a gaming monster hits a Bomber Hero, the hero would lose energy. The player loses the battle when his hero's energy runs out.
Battle Mode
Participants in this game engage in a bomb battle against other gamers. To join in the combat, however, participants must not only possess a specified sort of energy but also pay a set number of tokens as an admittance price. Following that, the admission charge will be used as compensation. The eventual winner receives the losers' tokens.
What is Bomb Crypto Token (BCOIN)?
Bomb Crypto's primary in-game money is the BCOIN token. It is mainly used to purchase bomber heroes, reset their skills, improve the heroes, purchase a house, participate in events, stake, and reset ROI. It is also used to pay entry fees for Bomb Crypto PvP and PvE games.
From an introductory price of more than $1.74 on October 2, 2021, the BCOIN quickly gained traction and reached its first peak of more than $4.65 the following day. This could be because the game was well received by the community since it sold 150k Bomber Heroes and 242 houses on October 2nd. This bullish upsurge lasted more than ten days before giving way to a bearish downturn.
BCOIN gained traction again in November 2021, reaching an all-time high of $8.77 on November 29. This could be linked to Bitcoin's price skyrocketing to an all-time high of more than $67,000 following the release of the Taproot upgrade.
NFT Bomb Heroes
Henricus – the Knight
This is Bomberland's first Bomber Hero. Henricus has fought innumerable battles with a sharp sword in his hand and solid iron armor as the descendent of a loyal knight who has consistently promised to preserve the kingdom since ancient times. He also receives technical improvements from scientists on a regular basis.
A chip has been implanted in his brain, allowing him to analyze his opponent's movements and always strike fatal blows. He also has the most powerful shield among the bomber heroes. "Stand with me, and I'll get you to victory," he says famously.
Bully Frog
The team's cutest bomber hero. Because the bully frog's family has been murdered by bad powers, Bully Frog is resolved to participate in scientific study. Bully frogs gradually evolve to the point that they are no longer considered normal frogs.
With their lengthy tongues and ability to jump large distances, Bully Frogs are specialists at long-range attacks. "Frogs, ribbit, ribbit!!!!!" is his catchphrase.
Richard – Man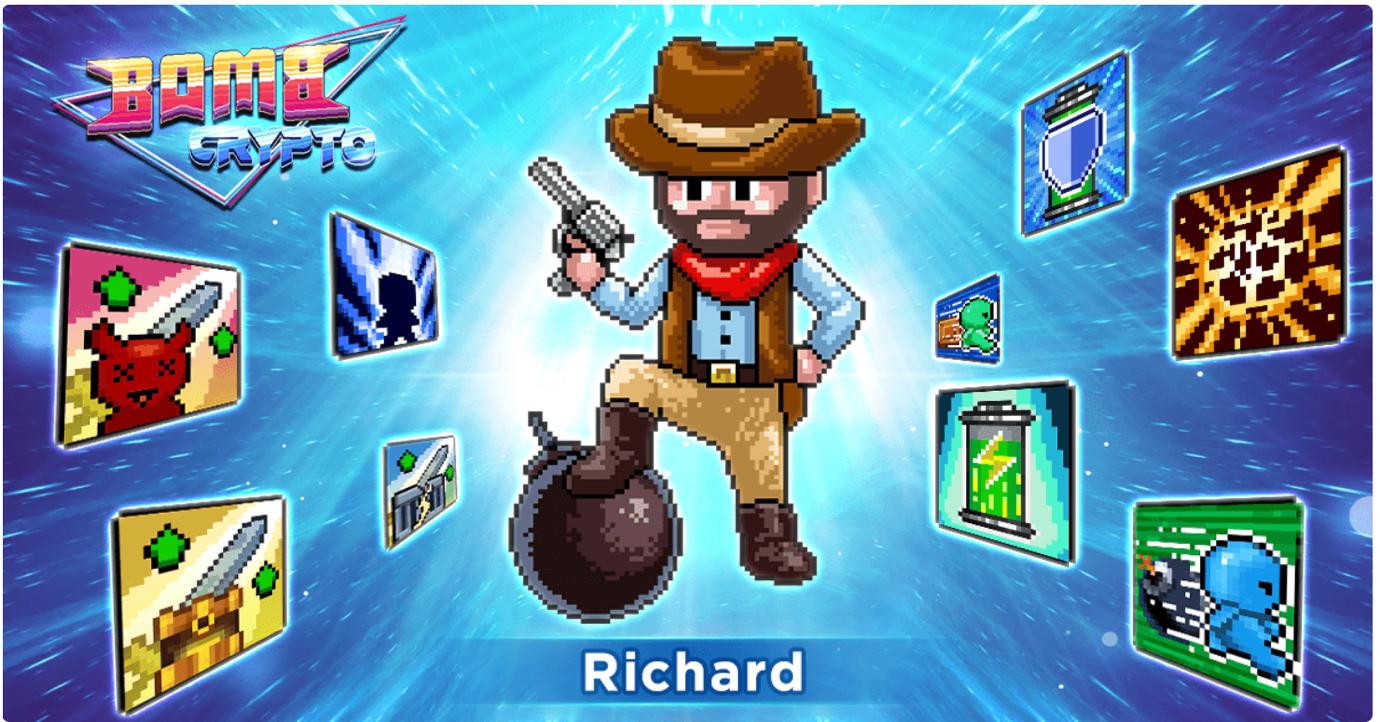 The only human Bomber Hero on the team. He is a legendary gunman who holds the record for shooting ten robbers with a single round. He is able to recuperate quickly with the help of scientists, making him the captain of the Bomber Hero unit. The Bomber Hero team members trust Richard due to his leadership and extensive knowledge.
Jasper Vampire – the Vampire
The Jasper Vampire was created when a DNA scientist fostered and implanted the DNA of an ancient beast into a man. Jasper Vampire has the agility to move like the wind and the ability to hypnotize foes.
Magic Yaga – the Witch
This charming witch is awarded powers from an ancient magic book, as well as modern supplementary powers from her clothing. Magic Yaga has the ability to manipulate matter and explode objects.
How to Play Bomb Crypto
Unlike other play-to-earn NFT games, the Bomb Crypto guide is relatively easy. Before playing the game, make sure you have at least 10 BCOIN tokens in your MetaMask wallet. Then, follow the instructions below.
Visit Bomb Crypto's official site at https://bombcrypto.io/#
Connect your MetaMask wallet. Find out our complete guide on opening a MetaMask wallet.
Purchase at least 1 Bomber Hero to play in this game. You need at least 1 Bomber Hero to play this game. The better attributes your Hero has, the better your gameplay will be.
Start playing in Treasure Hunt mode.
How to Earn in Bomb Crypto
The amount you earn is determined by how frequently you play and the mode you choose. The amount and stats of the NFT Bomber Heroes you acquire with Bomb Crypto determine how well you can perform within gameplay.
Methods of earning include:
Trading heroes on the market. You can buy and sell heroes using the Bomb Crypto marketplace.
Earn passively with Treasure Hunt. Treasure Hunt is a mode you turn on and can walk away from while your heroes work to clear the map.
Story mode. You can play this mode with 15 heroes, and you can earn BCOIN by destroying monsters and progressing.
PvP to earn. Battle Mode lets you battle other players, and if you win, you earn the pot that's built up with entry fees.
Players can claim their gains after mining at least 40 BCOIN tokens, according to their official website. To cash out their winnings, players must also pay a 3% withdrawal fee.
How to Buy NFTs on Bomb Crypto
Get NFT Bomber Heroes with BCOIN, through auctions or with gameplay:
The shop — buy one hero for 10 BCOIN. The hero that you get is random, but odds are it's a common rarity due to drop rates.
The marketplace — browse auctions and purchase NFTs.
Treasure Hunt mode — you have a chance of encountering a trapped Rescue Hero. Your heroes on the map have a limited time to free the hero – and if they do, you get to keep the hero.
You can have up to 50 active Bomber Heroes at a time, though you're allowed up to 500 Bomber Heroes total on your account. Inactive Heroes do not restore health.
Why Bomb Crypto
In comparison to DeFi mining, the Bomb Crypto game is more enjoyable because players can select their own Heroes. Every Hero purchase is frequently regarded as an expense related to the Bomb Crypto policy. It will convert the player's whole earnings into net profit in only 32 days. Many players are now focusing on this game.
A simulation calculator can also be used by players to assess their predicted daily income. For example, if a player owns three common Heroes with random traits, his or her daily average profit would be approximately 0.95 BCOIN. After 32 days, players will receive a full refund for the 30 BCOINS spent on those three Heroes.
Bomb Crypto Team
Senspark is an indie game developer formed in 2011 that has spent the last decade focusing on casual mobile games and has lately transitioned towards Blockchain Gaming.
With over ten years of experience and a desire to create high-quality games, we believe Bomb Crypto game might be the next big blockchain gaming firm. Senspark employs approximately 50 people full-time and is headquartered in Ho Chi Minh City, Vietnam. The following people make up the founding team:
Lam Ho – Founder & CEO
Hai Hoang – Lead Engineer
Khuong Pham – Lead Project Manager
Khoi Huynh – Lead Product Manager
Phuong Ngo – Lead Marketing
Hung Nguyen – Lead Game Designer
Roadmap
Q3/2021
Buy hero
Hero stats & upgrade
Hero rescue
Buy house
Treasure hunt mode
Q4/2021
Add marketplace
Add story mode
Add new skins
Q1/2022
VIP & stake
New story mode level
Q2/2022
Add new battle mode
Add leaderboard
Add Amazon survival
Q3/2022
Q4/2022
Add NFT drop in PVP
Add market NFT in-game
Conclusion
Bomb Crypto is a well-known play-to-earn cryptocurrency game based on the Binance Smart Chain. You can earn Bombcrypto (BCOIN), the in-game token, by collecting NFT characters known as Bomber Heroes. Earned NFTs can be sold to other players or used to improve your game, while BCOIN can be used to purchase stronger heroes. For now, the above is what you can expect in terms of gameplay, mechanics, and earning possibilities.